Sit to stand Desk is a life-saver for all people who have to spend more than 10 hours sitting every day, even now the Covid and Pandemic is over,  Working at home is still essential to some of us.
There are more than 230+Brands on the Market Starting with the product name  "standing desk", which including Electric Height adjustable Standing desk, Manually adjusted, Standing desk converter which allow you to use at the top of your old desk.
Price range from Around 200USD to over 1200USD.
We are here to help you to find your ideal Electric standing Desk in good quality but with a economic Budget option from 170 to 300 USD, these desk would serve you well in your home and office too.
How to pick up a good standing desk?
We recommend you buy with Brands who have good service.
Buying a desk is just a start,  Manufacture's fast response to your confusions whether in prepare for selling ,Setting up, Using are key to your smooth using experience for a standing desk,  after all it is not like a common desk which rarely need assistant.
Tips for pick up a good quality Standing desk
A good standing desk has following features : Durable and Stable, Easy to install , Spacious working area, Anti-collison, Transition fast, Well packaged, Generous Warranty Peiord.
The difference between single Motor and dual-motor.
Single Motor comes as a economic version, which have all the basic functions and with almost the bottom price among the market .
Dual-motor is more quite and smooth when in transition, and also the loading capacity is larger.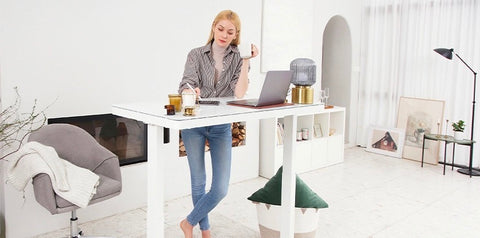 4)Have basic Certification and testing to ensure the desk you purchase comes from a well organized factory.
Tips to Maintain Standing desk.
How to deal with scratches
Scratches and dents are inevitable. It is a common issue for those Scissors and paper Clips may Accidentally Scratch . But no worries, light dents and scratches are very easy to handle.
You may use a steel wool hand pad to lightly buff out the dents and scratches. It's kind of the same thing that you use for your pots and pans. You can keep buffing until the scratches are gone. Then take a clean cloth to wipe off the dust.
But sometimes, life can give you lemons and that's in the form of deep ugly scratches on your table. But you can still make lemonade out of the situation. And that's in the form of an Old English scratch cover.
First, buff the area. Then dab a dollop on a clean cloth and wipe it over the scratches and dents. Then take a clean cloth to wipe off the excess solution. Make sure to follow the wood gain when wiping the desk down.
Whether it's a glass of ice tea or a hot Joe, always use a coaster. And if you're eating a hot bowl of ramen on your desk, make sure that it has a cloth or placemat under it. The heat can destroy the sealant on the desk. And it can be disastrous for laminate desktops, specifically. You might see small pockets of air forming underneath the desktop.
Don't use above the maximum Weight Capacity
The maximum weight capacity of a standing desk serves as your guide. Going overboard can make your saint desk brittle. The motor will be taxed and can even stop working. It's also a good idea to not maximize the weight capacity of the deal. This will also ensure that it's going to be more stable. And the adjustment time will be faster too.
Avoid interrupting the desk while in motion
Our standing desks are equipped with an anti-collision feature, it's not a good idea to overuse this feature. Intentionally stopping the desk whilst in motion can do a number on the motor. So reserve these "interruptions" for emergency purposes only.
Avoid spilling liquids on the motor
This can happen if your drink topples over and the liquids start to spill and spread everywhere. And addressing and issues asap will help make your standing desk last longer.
Common issues when using Standing Desk,
You might have accidentally unplugged the cable with your feet. Check first if everything is plugged in.
Clear the desk from any obstruction. Your desk could have stopped because it came into construction with something. It can be a chair, a plant, or anything that's in the way of the desk. The obstruction can also be below or above the desk.
Does your desk suddenly move in the opposite direction? This can happen with sit-stand desks that are equipped with an anti-collision feature. There might be something blocking your desk's way. And it was forced to retreat in the other direction.
Resetting
If your desk suddenly stops working, you may try to reset it. Unplug the desk from the power source and hold the down button for 10 seconds.
Unplug the keyboard color and the power cord. Then plug it in again and check if it has been resolved. Most standing desks have this resetting technique. But it might also depend on the brand.
The motor still not working
If the resetting is to no avail, contact Vidateco Service team immediately. Don't try to pry open the motor and fix it yourself. You might mess up with the motor's components. And it may affect the warranty of the product.
The Conclusion
Vidateco Standing desk ES1 and ES2 is a good deal with All Features mentioned above  You will have them within a very favorable Budget under 300 and have all the Service and Tips to Help you a Smooth using in your Home Office.